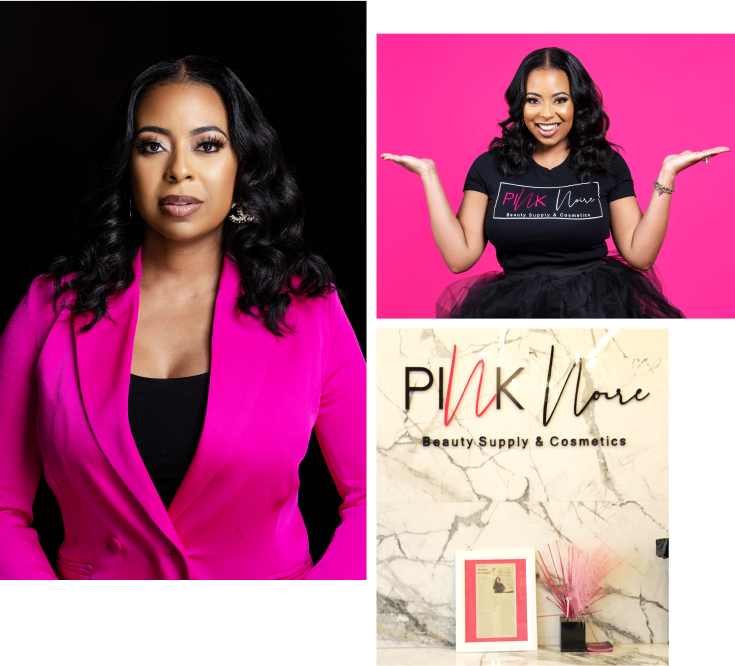 Chasity Monroe's Biography
Chasity Monroe is the owner of Pink Noire Beauty Supply and Cosmetics which will be opening in March of 2022 in Midtown Memphis, TN. Chasity is excited about bringing job opportunities and contributing to the Memphis economy via a woman- owned and led business in the city.
During her graduate studies at Columbia University, Chasity conceived of opening a Black-Owned beauty supply company that truly catered to Black women. Five years later, the pandemic afforded her the opportunity to relocate to Memphis and begin the journey of opening Pink Noire.
Prior to beginning this entrepreneurial venture, Chasity was Director of Development at REDF, a venture philanthropy that invests in, funds, and advises employment social enterprises. In this role, she led the strategy and execution of securing $100 Million for their current five-year strategic plan. Chasity is passionate about solving for and eradicating social issues. She has held leadership positions with the ACLU of New York and New York Mission Society. Additionally, early in her career she worked in market research and consumer insights for Procter & Gamble.
Chasity received her BS in Business Administration and MBA from Florida A&M University. She is a proud Rattler and 3rd generation HBCU graduate. She also holds a MS in Nonprofit Management from Columbia University. She is originally from Memphis, Tennessee and currently resides between her hometown and New York City. She enjoys being a new mom, wife and rooting for the Memphis Grizzlies.
What Our Clients Say
Josephine Weaver
Excellent customer service.....beautiful facility....great prices!!!
Deborah Taylor
Soooo glad to meet Ms. Chastity. She has an amazing shop and I am Soooo happy she's African American please go and shop with her. Thanks Ms. Chastity

Fun Girl91
Wishing your business the best success.Think about cameras for security.

Bianca Johnson
Black owned!!!!!! Black owned!!!! Candy is so nice helpful and gave me information that I needed this is a no cash purchase beauty supply store So card Apple Pay chip etc only

Kiana Cleveland
I had a splendid visit today! I showed up just a tad bit too early but I was greasers by someone in the parking lot and they stayed the store opens at 12 PM. The store is still in phase 1. Great selection of natural hair care products and some braid hair and crotchet hair options.
Why Choose Us?
Free Colour Matching

Buy Now Pay Later

Speedy Delivery

Worldwide Delivery